---




Michelle Bardwell, Founder and President of Flower Road, LLC has spent a lifetime merging her passion for physical and planetary wellness with her innate entrepreneurial savvy. Michelle's first business, Moonslice Dance, was an avant-garde dance studio and theatre located in the heart of Dallas' arts district. Moonslice, and the many dancers who trained under Michelle, served as an inspiration for her clothing company—Property of the Universe. Using all organic cotton in her clothing line, Property of the Universe was a green collar business long before anyone in the fashion industry was aware of eco-fashion. After the birth of Michelle's second child, she began seeking out more holistic methods for wellness and healthcare. This search brought her into the world of Aromatherapy. Always one to passionately and vigorously pursue her passions, Michelle sought out her Clinical Aromatherapy education from one of the world's leading Naturapathic doctors and Aromatologists—Dr. Patrick Collin. Dr. Collin has educated many medical doctors, Naturopaths and Aromatherapists throughout Europe on the clinical use of essential oils and hydrosols.
For over 10 years, Michelle studied aromatic medicine extensively under Dr. Collin in the Languedoc Region of southern of France. With over 15 one-on-one intensives with Dr. Collin, Michelle has had the honor of receiving a unique education under this world-renowned doctor and scientist. Michelle's education also includes Manual Lymphatic Drainage, Bach Flower Essences, Clay Therapies and Leech Therapy under the prestigious Madame Anne Portier—a practicing Naturopath in the Drone area of France. This comprehensive educational opportunity has given Michelle a deep understanding of the intricacies of wellness, as well as a European approach to health and healing. Knowing of Michelle's desire to create a perfume line with healing properties, Patrick introduced her to Mic Moisseeff, a master perfumer based outside of Toulouse. Mr. Moisseeff, well-known through out the perfume world, opened up the creative side of essential oils to Michelle allowing her a complete education in all uses of plant materials.
Michelle, a natural and gifted teacher, enjoys teaching certified continuing education classes (CEU) for professionals in Aromatherapy. She travels throughout the United States providing seminars and workshops for massage therapist, massage schools and spas dedicated to quality education. Her passion for essential oils and natural healing has inspired many of her students to carry their own education to the master level. She has also developed nonprofessional classes designed specifically for the layperson interested in learning the basics of true French-based, clinical aromatherapy and natural perfumery.
Ms. Bardwell's demand for excellence and quality show through in every aspect of her work and personal life. The dedication she possesses for purity has brought forth a line of products that are incomparable to any on the market today. This combined with her vision and future genius will Flower Road the lifestyle of tomorrow.
Michelle is currently working on her first book, Flower Road Formulas, which will provide comprehensive formulas and education for the many applications of essential oils for personal care, as well as the care of the home. She resides in Dallas with her three children and two French bulldogs.


---





Dr. Patrick Collin went into natural medicine in the beginning because one of his children developed an illness. As happens with so many people, traditional medicine wasn't helping his son so began his search into a world that not only saved his son but changed his life as well. He practiced Naturopathy from 1977 to 1982 in Paris then worked with Pierre Franchomme creating Aromatherapy formulas for doctors and pharmacists until the end of 1985. He also created formulas for Pharmessences in Lausanne, Switzerland which are used by Doctors and Pharmacists through out Europe. He was the Aromatherapy Professor at IHMN in Switzerland from 1990 to 2005 and is currently the Aromatherapy Professor at the DUMENAT (University Diploma of Natural Medicine) in Paris. His love of essential oils and commitment to social responsibility are leading him to Madagascar to live among the Cocoa groves for the next few years teaching and developing aromatherapy. It was truly Patrick's intellectual grace, keen intuition and commitment to the planet that inspired Michelle's own commitment to a natural existence.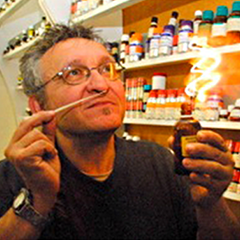 Michelle was introduced to Mic thru Patrick after she expressed a desire to create a line of healing perfumes without the use of synthetics. In 2005 she started studying Natural Perfumery and organic chemistry with Mr. Moisseeff in his beautiful home/lab in Revel just outside of Toulouse.

Mic is known through out Europe as an Aroma Sculptor, Aromatician and founder of the Aroma Museum 'Explodarome'. He is a master at combining both natural and synthetic oils to create perfumes and aromas for special events from fashion shows to large outdoor festivals. His unbelievably keen sense of smell, wildly creative mind and exquisite command of both the English and French language made for the most challenging and inspiring education for Michelle. Although the base of her education and work lies in Clinical Aromatherapy, Mic taught her invaluable lessons about the creative process and the development of her olfactory sense.